By Kathleen Casto
The race: Mountain Madness Half Iron.
The Swim: Put wetsuit on, take wetsuit off.  Epic rains and cold temps pushed back the race start and left Carters Lake shrouded in dense morning fog.  No swim.  Normally I would be thrilled, but I've been really working on my swim and was hoping to give it a new and improved shot.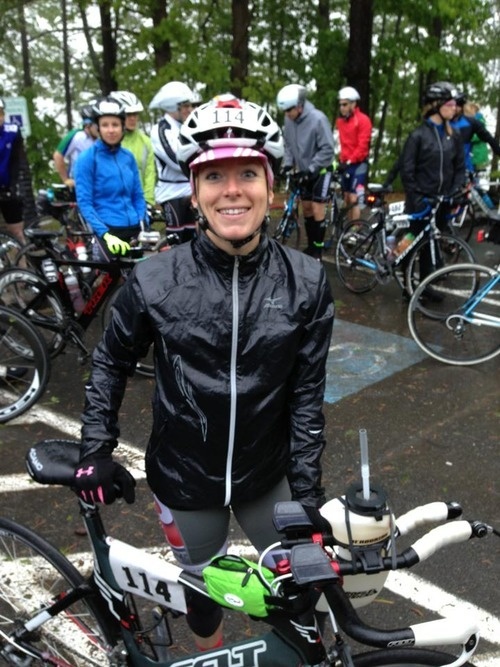 Kathleen before the time trial start
The Bike: (2:27 and change…for 45-47 miles)  The big mountain that we were supposed to climb during this race was taken out of the course because of the rain.  The race directors, wisely, determined that many triathletes are less than expert bike handlers and would most certainly hurl themselves off of the mountain if they attempted to descend in the rain.  We still had one little mountain at the end, but the rest of the course was rolling.  I did not feel strong during the ride and really lost motivation at points along the way – with the rain, cold, and course changes I just lost my race juju.  Fellow PodiumGirls  teammates Barbora Cervenkova and Sandra Murphy had a better day on the bike.  Barbora biked an amazing 2:17 and Sandy, a 2:25 (she came flying by me so fast on the long climb near the end that I thought I was standing still)!
The Run: (1:27 and change) THE HILLIEST COURSE EVER.   Cresting the top of the giant 200m wall some would call a hill out of transition I hear PodiumMS CEO Matt Cole yell "7:00 minutes, the leader is up on you by 7:00 minutes! Go get it!"  While I contemplate the breadth of a 7 minute lead I realize my sopping wet fleece leg warmers are still on so I flop down on the pavement and stick my legs up in the air and yell back "Help me, take them off, PULL!"  Leg warmers removed thanks to Matt I feel a new sense of freedom that I decided to role with.  OK, 7 minutes, that is doable.  If I run ~30 seconds faster per mile, than I can catch the leader and win.  Surprisingly my legs felt great and I began my methodical chase.  Be patient, stay in control, and reel them in. 
1st OA, 3:58 (or something like that)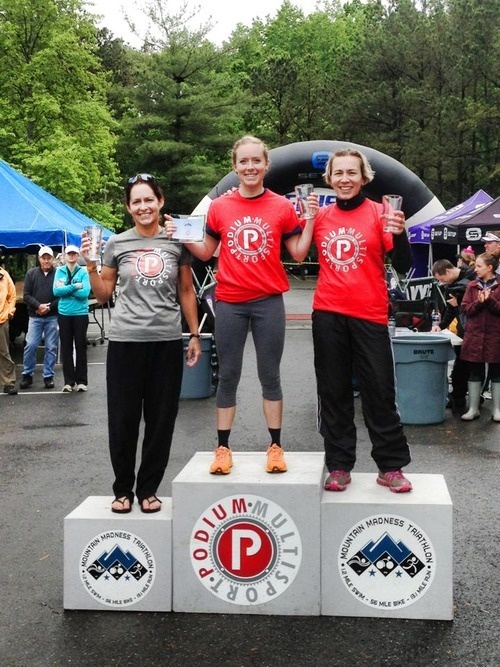 PodiumGirls Kathleen, Barbora, and Sandra swept the overall women's event.
The best part of this experience was the Team Podium support.  I've done solo races before, raced well and had fun, but there is something extra special about going through the muck (especially when the weather creates some real muck) as a shared experience with teammates.
Lessons learned:
The good – (Particularly in races where the conditions are crap) race with friends, don't wear a watch, and just have fun.
The bad – don't race, particularly a long race, without breakfast.  I didn't plan well and had no real nutrition going into it.  I was so hungry when I finished that I thought I was going to pass out and I think it had a real negative impact on my recovery.