Podium Multisport ships throughout the 50 continental United States via UPS (United Parcel Service). We typically ship items immediately as they become available. Our goal is to inform you when an item is not available for immediate shipment. While you may receive more than one shipment per order, there is no additional shipping charge. We process orders on a first-come, first-served basis. In-stock items on orders placed before 3 PM EST will typically be shipped out the same day.
UPS does not ship to APO/FPO or P.O. Box addresses. If shipping to an APO/FPO address please review the APO/FPO policies below. Attempts to ship to a P.O. Box will delay and in most cases prevent delivery of your order.
Tracking your Shipment
You will be notified of the tracking number for your package(s) via email from UPS (usually late on the night we ship your package). To ensure you receive your tracking number, please ensure that your email address on your account is correct and that the following email address is included in your email address book: [email protected].
Shipping within the 50 United States
The following UPS options are available on orders being shipped within the 50 United States:
Ground - UPS Ground service may take from 1 to 7 business days depending on where you are in the country. Ground service is available for the 48 contiguous United States, which excludes Hawaii and Alaska. The following map shows UPS estimated Ground shipping times from Podium Multisport: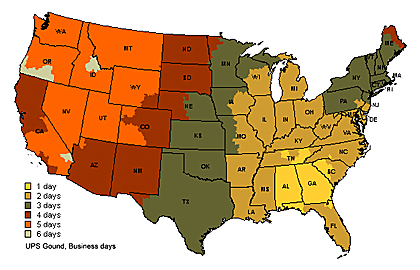 3-Day Select - UPS 3-Day Select service provides guaranteed delivery within 3 days for the 48 contiguous United States, which excludes Hawaii and Alaska.
2nd Day Air - UPS 2nd Day Air service provides guaranteed on-time delivery to all 50 states by the end of the second business day. Some deliveries to remote locations in Alaska may take an additional 1-5 days.
Next Day Air - UPS Next Day Air service provides guaranteed delivery by the end of next business day to all 50 states. Some shipments to remote locations, Hawaii, or Alaska may require additional transit time.
Note: These options are all based on business days. Orders placed on Saturday or Sunday will be processed on Monday. The day an order is processed does not count as a shipping day. UPS does not deliver on Saturday under our standard options. If you need Saturday delivery, please highlight this request in your order comments during checkout or call us to confirm pricing/availability of special shipping.
Shipping to an alternate Address (an address other than the listed Billing Address)
To prevent fraud, customers who are shipping to an address other than their billing address and not to a Bongo International supplied US-based address, will be requested to authorize the secondary address with their credit card provider. Signatures are required for high-value deliveries.
For Alternate Address orders using a non-US based Credit Card, please note the following process:
Orders must total $400 USD or more before shipping
Additional Bank Fees will be applied as necessary
Orders are placed on the website as normal. Although payment information may be allowed to be entered int the ordering sytem, we reserve the right to decline payment using a non-US based credit card. The shipping costs at this time are only an estimate and may be lower or higher.
Payment must be via a wire transfer in U.S. Dollars.
Once an order has been placed the customer will receive an email, with a confirmation of final shipping costs, order total, and wire transfer instructions.
Orders will be shipped when payment has been received.
Shipping to Canada
For our Canadian friends, we now offer 2 shipping options via UPS:
UPS Wolrdwide Expedited: This method automatically goes via air shipment, and is generally delivered within 2-5 business days. This method WAIVES any brokerage fees, but is priced as any other air shipment and can be quite expensive based on the package size, value and contents. Please note that there will be additional Duties and Taxes due on any incoming pakcages from outside of Canada. Please check with your local authorities to verify what these charges may be.
UPS Standard:This method is shipped via truck, and is generally much more economincal than Worldwide Expedited, BUT will typically take longer and DOES NOT INCLUDE Brokerage Fees, so be aware of these as well as other Duties and Taxes that will be due upon delivery.