By Adam Coy
Prerace:
The main reason I decided to do this race as my qualifier for Age Group Duathlon Worlds is they are in Ottawa this year.
I knew that coming into this race I would not be in very good shape and not super competitive, especially on the bike. The past 4 months before the race included clinical rotations for medical school, studying for board exams and vacationing in Japan.  I knew that the bike would be my limiting factor but and probably hurt my second run.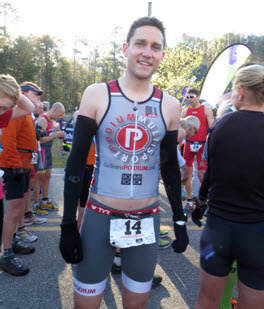 Pre-race, ready to go
The first run was 2 laps. The start of the course was straight uphill for about a ½  mile. Quite a few people took off way too hard, but I held back because I figured they would fade pretty fast (they did). By the time the 2nd lap started, there was a group of about 6 of us all running together at the front. We stayed together until the turnaround. With about 800m to transition, I was running with 2 other people who decided to really push the pace. I decided to not hang with them because I knew I would have a fast transition and catch them.  Coming into T1 I was in 4th place with a total time of 40:16 (which included transition). I am pretty happy with the time based on course conditions.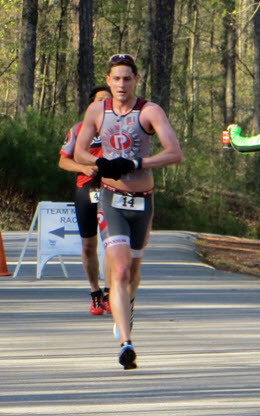 Finishing run 1
Bike (40K) 1:08:20 – 4th or 5th overall
By the time I mounted the bike I was in 3rd overall. I quickly worked my way to second. The bike course was an out and back two lap course and pretty hilly. At the turnaround, I saw that I had not made any time on the guy in 1st. At the start of the 2nd lap I was passed by a guy who I tried to hang with for a while but was dropped after a few miles. My legs felt significantly weaker during the 2nd lap which I had expected. I came into T2 sitting in 3rd place overall.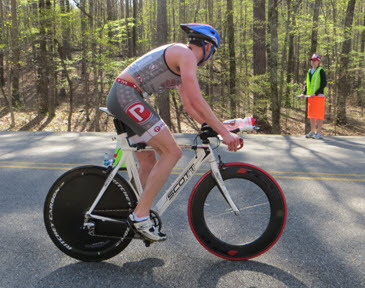 At the bike turnaround
Run 2 (5K) 21:47 – 3rd overall run
Looking behind me as I came out of transition there was no one behind me which was a good thing because my legs felt terrible. The course was in the reverse direction of the first run. It was a nice way to start the run because there was no steep hill like at the start of the race. By the time I got to the turn around, I saw that the two leaders were about a 1:30 in front of me. I knew that if I could just keep a decent pace, I would finish in 3rd place. By the time I got to the long down hill I had all but shut down and jogged into the finish.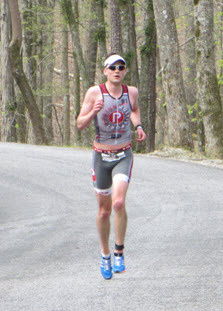 Heading down the long hill to the finish
The Penalty
After the race, I saw I had received a two minute penalty for an illegal pass I made on the right on the bike. I thought back to it and knew I was guilty. 
Overall: 2:12:22 - 4th Overall and 1st place Age Group
I ended up losing one place overall because of the penalty. I qualified for Duathlon Worlds and had a good overall race. I also know for next time to not pass on the right.  I have to thank my wife for being a great race Sherpa and race photographer. Also a thanks goes out to Podium and Team Podium for all of their support!