By Katie O'Dunne
Life is Like a Triathlon
Since my dad began racing Ironman, he has told me, "Life is like a triathlon." However, I did not fully understand this brilliant statement until I became a triathlete myself. Just like triathlon, life can be difficult and obstacles often arise, but with hard work and perseverance, your dreams can come true.
            I began to understand this as a collegiate cross country and track athlete. After graduating from college, I felt a void without running, training, and competing. I decided to embark on a new journey in the sport of triathlon, following in my dad's footsteps. I had no idea that this sport would impact my life as strongly as it has over the past year. Even off the course, it has impacted my success in my Masters of Divinity program at Emory and my pursuit of chaplaincy. The following are races I have competed, and lessons learned, and how they applied to a life goal.
Red Line Super Sprint – Exceeding Your Expectations
            My first race of this season was Red Line Super Sprint on April 21. I planned, I prepared, and I laid out my goals. However, I did not have incredibly high expectations for myself on the bike or the run due to some nagging injuries. Something came over me in the race, and I was able to complete the very short race almost 10 minutes faster than my goal time!
At this same time, I was struggling with a few of my Spring 2013 classes at Emory. This race gave my confidence as I entered my final exams knowing that when you work hard, put in the time, and do your best, you can exceed every expectation you have for yourself.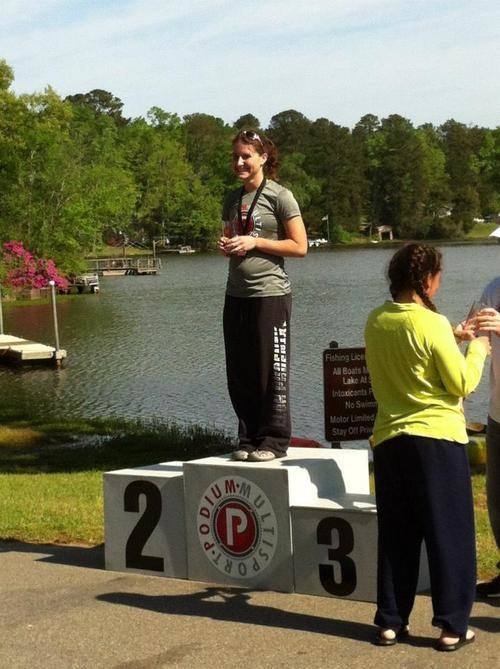 Katie on the podium at Red Line Super Sprint
Iron Girl – Being Flexible
            Iron Girl, on May 19, taught me a very different lesson. I learned that things can change at any given moment. I plan my training, my meals, and my studying to a tee. When Iron Girl was cancelled due to a ridiculous storm, my world was initially rocked. After the shock and the storm had passed, I pulled myself together and decided to go on a long run. Surprisingly, this 11-mile run around the island and along the water turned out to be one of my best long runs ever!
            About two weeks after this race, I began my summer chaplaincy internship at the Atlanta VA Medical Center where I learned that in a hospital plans tend to change, and things can become messy. Often this summer, when I found the schedule at the VA changing, I referred back to my feeling of euphoria during my long run, when I was simply flexible after Iron Girl was cancelled.
Blalock Lakes – Pushing Through Adversity
            Blalock Lakes (June 22) was a painful race for me. My asthma acted up on the swim, my legs were tired on the bike, and I felt like I was going to have a heat stroke on the run. It took all I had not to stop and walk after mile one of the run. I kept telling myself, just a little further, counting down in my head. When I finished with a PR on the clock I was so glad I hadn't stopped!
            My experience as a chaplain at the VA was not always comfortable. I worked as a chaplain in the areas of surgery, ICU, and palliative care. I love this type of work, but there were times when I felt like there was nothing more that I could do or that I felt inadequate: times when I wondered if I should "stop" the counseling I was doing and pass it off to someone more experienced. Blalock Lakes helped me to remind myself that I need to keep pushing through the hard times to reach the ultimate reward of success and satisfaction.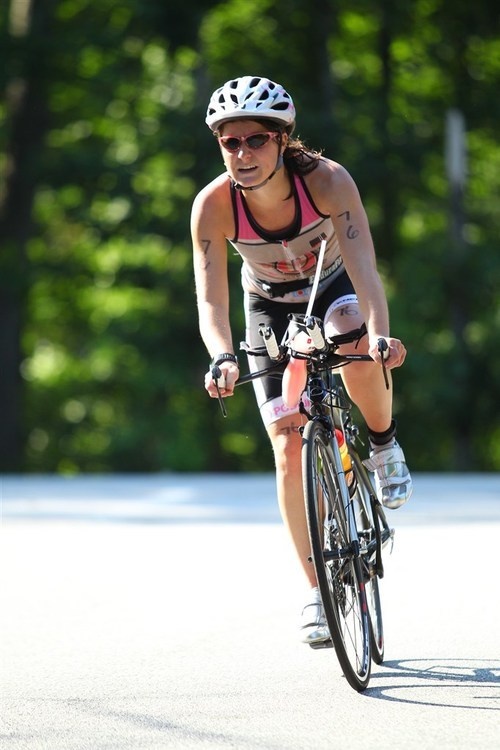 Chattanooga Waterfront Triathlon – Learning from Mistakes
            This race became a duathlon, and I felt very good about my overall performance. However, my difficult moment came when I realized I had not picked out a spot to use to find my bike. I went in circles, ruining my transition time after a very fast first run. After the race, I really beat myself up about this particular mistake, knowing that it was something I could have controlled. However, the experience ended up helping me to prepare more fully for my transition during Nationals.
            At the VA this summer, I made many, many mistakes: mostly with patient charting (which was new to me). However, after this race, I was able to tap into the idea that when we make an error, we can actually use it to make "improvements for the future"…imagine that!
Triathlon as a Spiritual Practice: Age Group Nationals (Olympic Distance - 2:41:35)
            Just as in the other races where I learned life lessons, I exceeded expectations with a 14 minute PR and my first time over 20mph on the bike, I learned to be flexible when the GPS on my watch shut off on the bike, I pushed through adversity when my feet went numb on the run after pulling my lock laces too tight, and I learned from many mistakes for the future without being too hard on myself. Even more significantly, it was a spiritual experience for me. I was having fun, I was at peace, and I felt joy filling my body: a joy I cannot seem to get anywhere else except when I am competing in triathlon. As I practically fell through the finish line with completely numb feet, I was lifted by Chrissy Wellington placing the medal around my neck. What a day, what an experience, what a "sport!!!" For me, triathlon is more than just a sport: it is a way of life and a spiritual practice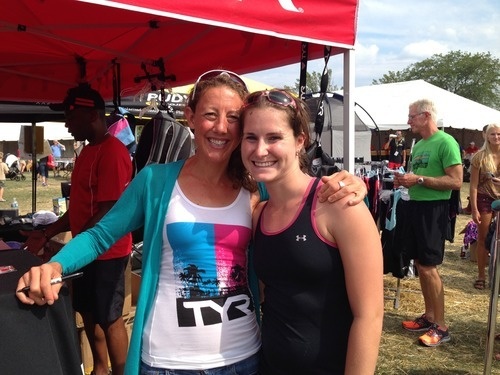 Katie with Chrissy Wellington at Age Group Nationals