By Elaine Sipos
Jeremy has done this race every year it has been going, and I've done it a few times myself. You can read his race report here. We always enjoy starting the season off in New Orleans…it's crazy and fun.  We stayed at a great place where we could walk out the door to all the restaurants, bars, shops, entertainment, etc. They seemed surprised that we wanted to take our bikes to our room vs. locking them up to a flimsy wooden stair rail in an outdoor garden/atrium, so I think it's a place that doesn't tend to have racers stay there. 
 The swim has been cancelled the last few years, which is sweet music to my ears…but not Jeremy's. Even though swimming is our weakness and we lose a lot of time to others in the swim, he wants that legit 70.3 race. For that reason, we were glad the swim course changed to the South Shore Harbor Marina this year.
 I wasn't ready to race a 70.3, so I opted to play the role of Sherpa this year.  I'm always torn on this…the one side of me wishes I was out there racing, while the other side of me is so thankful to be in warm/dry clothes with a hot coffee in hand.  I still always get nervous for Jeremy and all the racers, but I have a lot of fun running around cheering and taking pictures. It was a cold and windy morning, so I layered all of the clothes Jeremy took off on top of mine. The M-shaped swim course looked a bit confusing to me. For those of us who get off course, it seemed there could be risk of head-on collisions.  I'm sure it all looks different once you're out there though.  I wasn't a big fan of the new finish location in Armstrong Park.  It's a nice park, but it used to be so fun to end in the heart of the French Quarter…much better people watching and entertainment not even related to the race!   
Jeremy didn't have the race he was expecting based on how well his training was going, but he still finished strong with the fastest bike split in his age group and one of the fastest of the day.  I'm proud of him, and know his races will just get better and better all season! Even when he's disappointed with his race, he has a great attitude about it and never lets it mess up our fun for the rest of the trip.  I know that's not easy to do! We had a great time that afternoon/evening in the French Quarter, enjoying what turned out to be a nice day, watching street entertainers, store browsing, listening to some great Jazz bands, eating great seafood, and of course some adult beverages!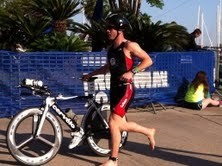 Jeremy headed out to the bike 
 It was exciting to be there as our local, newly turned Pro, Haley won the race!  It was also great to see two of Jeremy's Coach's athletes finish 2nd Male Pro (by 5 sec) and 2nd Female Pro (after 9 min lost to a flat).  I guess he's got a pretty good Coach!
I think I really like this Sherpa gig…I'll be back for more!