Add your review
Argon 18 E-118 Tri+ Disc Triathlon Frameset
Argon 18 E-118 Tri+ Disc Triathlon Frameset
The E-118 Tri+ is our pro-level UCI-legal tri bike with the lean, low race frame of a TT champion, tailored for triathletes. Read more
Description
The E-118 Tri+ is our pro-level UCI-legal tri bike with the lean, low race frame of a TT champion, tailored for triathletes.
Fast, fit, fearless
At 250g lighter than the previous-generation E-118Next and equipped with discs, the E-118 Tri+ combines the razor-sharp handling and aerodynamic performance of a TT champion with tri-specific fit and functionality. Using Notio for our racecourse and velodrome testing has shown a gain of 8 to 10 watts at 50km/h over the E-118Next. With new geometry to achieve a significantly lower front profile, our updated Oneness system offers a bar/stem system with armrest stack 2cm lower and grip position 4cm lower than the E-118Next. This allows athletes to achieve a low, aggressive position, and for smaller riders to find their perfect fit.
Argon Oneness System
The Integration of Aerodynamics and Comfort
With its streamlined handlebar and fully integrated stem, Argon 18's Oneness cockpit has a significant impact on the aerodynamic efficiency and stiffness of the cockpit of our integrated triathlon bikes. Featuring multiple settings, this system enhances the bike's versatility with significant cockpit adjustment, optimal aerodynamic positioning, and more than 30 configuration options between the rocker, spacers and the option to flip the base bar. Oneness allow you to maximize your position for both aero performance, and importantly, the comfort to hold that position for the full bike leg.
Get aero
Tri and TT bikes prioritise aero performance, and the geometry of these bikes reflects this. To allow the rider to achieve an aggressive aero position, the seat tube angle is much steeper than on a traditional road bike. This geometry is designed to put the rider in a more forward position. Not only does this help with aerodynamics, it also can help save a triathlete's legs for the run, as it places less stress on the quadriceps. While a TT rider doesn't have to worry about running a marathon after the ride, the same aggressive aero positioning is required to shave precious seconds off the course. Argon 18's triathlon and TT geometry maximises performance while allowing riders to dial in their perfect fit to maintain that position throughout the race.
Argon Fit System
The Argon Fit System is designed to provide riders of all sizes with consistent performance and optimal positioning. Regardless of your build, gender or your riding style, our frames are designed so that your fit will always be efficient and comfortable, ensuring the ultimate in handling. We offer sizing from XXS to XL in all of our road bikes, and XS to XL in our Tri bikes, with each size approached individually from a design and performance perspective. While a lot of manufacturers optimise performance and weight targets for a medium size frame and simply scale up or down, we assess the performance of each size based on the individual character of that particular geometry. For example, even our largest frames have exceptional stiffness without excess weight, to avoid the 'dead' feel found in some XL frames. XS and XXS retain their inherent lightweight qualities, but without excess stiffness, avoiding harsh ride quality.
Ideal for
Those looking for an aggressive position, highly responsive handling for extremely technical courses, or a versatile bike for both TT and Tri.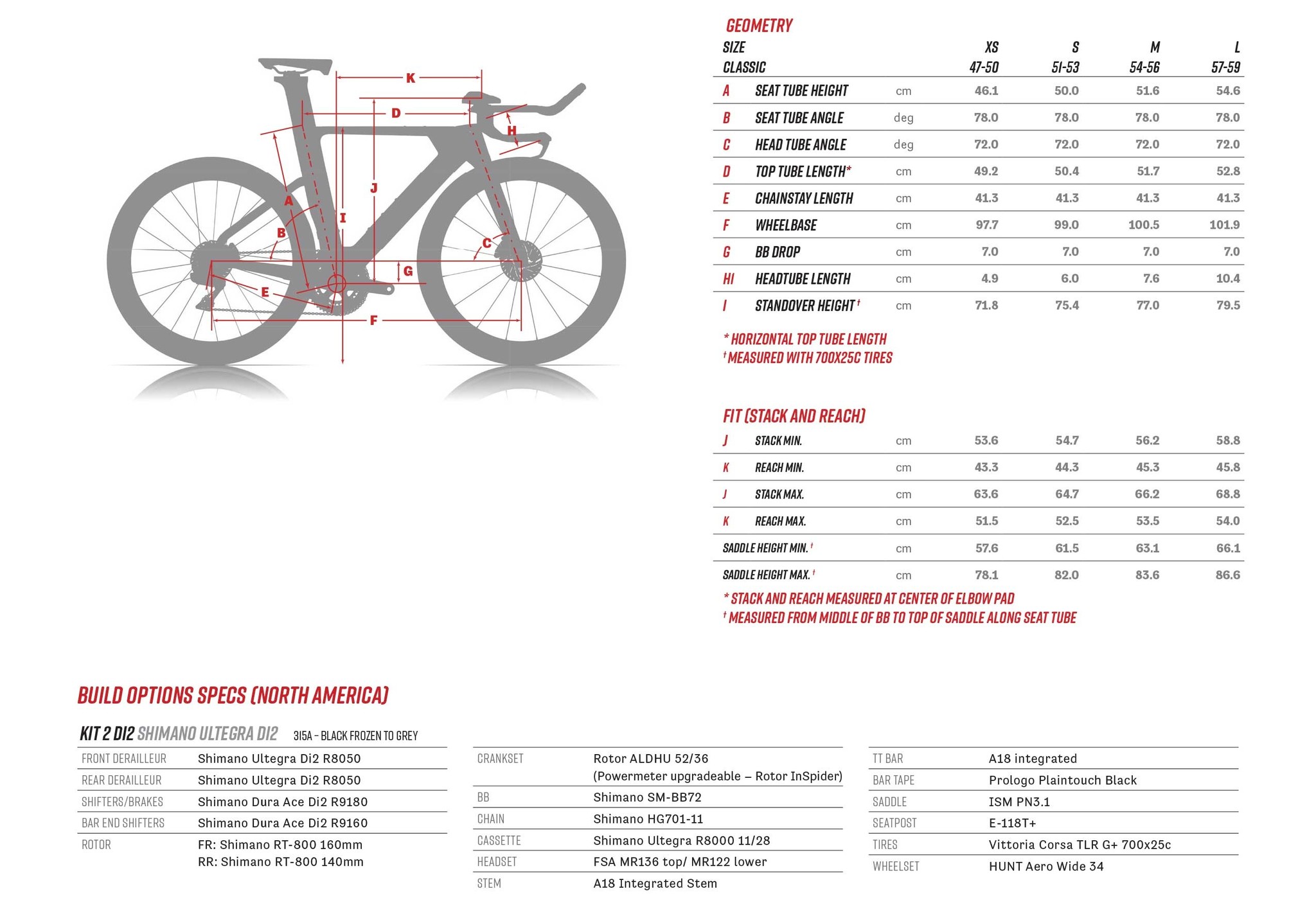 0
stars based on
0
reviews