Add your review
Wahoo Fitness ELEMNT Bolt Computer Stealth Black
Wahoo Fitness ELEMNT Bolt Computer Stealth Black
Article code
WAHOOELEMNTBOLT
Created in collaboration with the best minds in cycling aerodynamics, ELEMNT BOLT offers the power and simplicity that originated with ELEMNT in a race worthy design proven to shave seconds off finish times. Read more
Description
Created in collaboration with the best minds in cycling aerodynamics, ELEMNT BOLT offers the power and simplicity that originated with ELEMNT in a race worthy design proven to shave seconds off finish times.
MORE THAN A SLEEK HEAD UNIT
The ELEMNT BOLT + Integrated Out Front Mount creates a system with a large smooth surface for the air to slip past, reducing wind resistance and the power (watts) required to maintain speed.

SHAPED TO SLICE THE WIND
The sides were tapered to maximize the ELEMNT BOLT's wind-slicing properties following time tested aerodynamic forms.

MAXIMIZE READABILITY. MINIMIZE AIR RESISTANCE.
The ELEMNT BOLT System was designed to maximize readability and minimize air resistance. We designed the computer to sit in the integrated out front mount at an angle to optimize your view of the screen.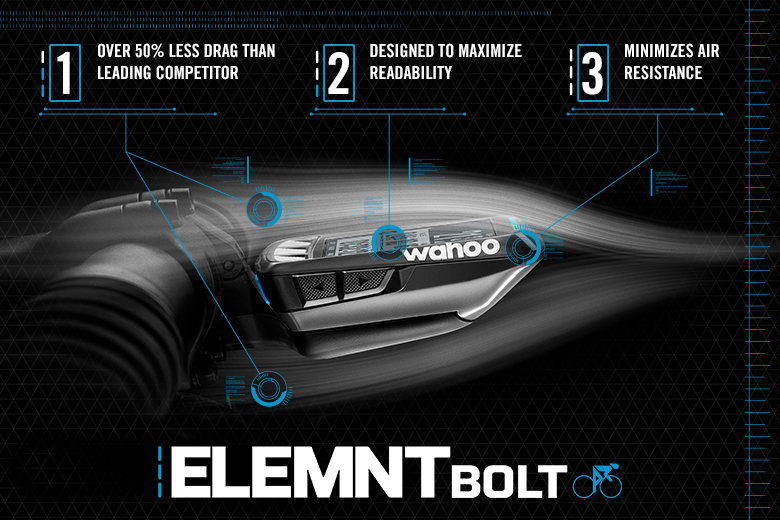 0
stars based on
0
reviews