Add your review
Roadmachine 01 ONE Dura Ace Di2 Road Bike
Roadmachine 01 ONE Dura Ace Di2 Road Bike
THE ONE-BIKE COLLECTION Read more
Description
THE ONE-BIKE COLLECTION
Meet the Roadmachine: the bike that truly does it all. Rooted in endurance, the frame has been revised to perfection and added more compliance-boosting attributes to make this bike your go-to choice for all-day adventures. As our highest performing all-rounder, it's designed to go the distance with resolve. After all, what use is a road without the Roadmachine?
How every bike should ride.
The Roadmachine 01's Premium Carbon frame has been refined with our Integrated Cockpit System, as well as our compliance-enhancing TCC Endurance technologies where it counts. One bike to do it all: ride fast, ride far, on smooth pavement or rough back roads–this is the high performance all-arounder of BMC's road collection.
D-SHAPE SEATPOST
A new "D" compliance post is held in place by a clever, integrated clamping system.
BMC FLATMOUNT ADAPTER
The Roadmachine front disc hardware comes equipped with a 140/160mm proprietary flatmount bracket for maximal integration and seamless design.
INTEGRATED COCKPIT SYSTEM (ICS)
The aesthetic simplicity and innovative functionality of the Integrated Cockpit is the epitome of Swiss engineering and design. ICS keeps cables and housing in their place: out of sight.
INTEGRATED SEAT CLAMP
Seamless and functional integrated seatmast clamp.
TUNED COMPLIANCE CONCEPT (TCC) ENDURANCE
The most capable version of our TCC technology: take the edge off the roughest roads to push harder and ride further. The ultimate balance between comfort and performance for a ride that is both forgiving and fast.
SPECIFICATIONS
FRAME - Roadmachine 01 Premium Carbon with Tuned Compliance Concept Endurance
• ICS Technology, Stealth Cable Routing
• PF86 Bottom Bracket
• Flat Mount Disc
• 12x142mm Thru-Axle
FORK - Roadmachine 01 Premium Carbon with Tuned Compliance Concept Endurance
• ICS Technology, Stealth Cable Routing
• Flat Mount Disc
• 12x100mm Thru-Axle
• 50mm Offset (Size 47-51), 45mm Offset (Size 54-61)
GEARS - 2x12
CHAINWHEEL - SHIMANO Dura Ace 12spd 50-34T
CASSETTE - SHIMANO Dura Ace 12spd 11-30T
CHAIN - SHIMANO Dura Ace 12spd
FRONT DERAILLEUR - SHIMANO Dura Ace 12spd
REAR DERAILLEUR - SHIMANO Dura Ace 12spd
SHIFTERS - SHIMANO Dura Ace 12spd
BRAKES - SHIMANO Dura Ace, RT900 Rotors (160/140)
HANDLEBAR - ICS Carbon, One-Piece Full Carbon Cockpit
STEM - ICS Carbon, One-Piece Full Carbon Cockpit
SEATPOST - Roadmachine 01 Premium Carbon D-Shaped Seatpost
• 15mm Offset
SADDLE - Fizik Argo Tempo R1 (150mm)
HUBS - DT Swiss 180 Straightpull, Ratchet EXP 36, SINC Ceramic Bearings
RIMS - DT Swiss ERC 1100 Dicut, 45mm
TIRES - Vittoria Corsa Control, 28mm
TIRE CLEARANCE - 28mm (Measured Width)
WEIGHT - 7.40kg / 16.31lb
GEOMETRY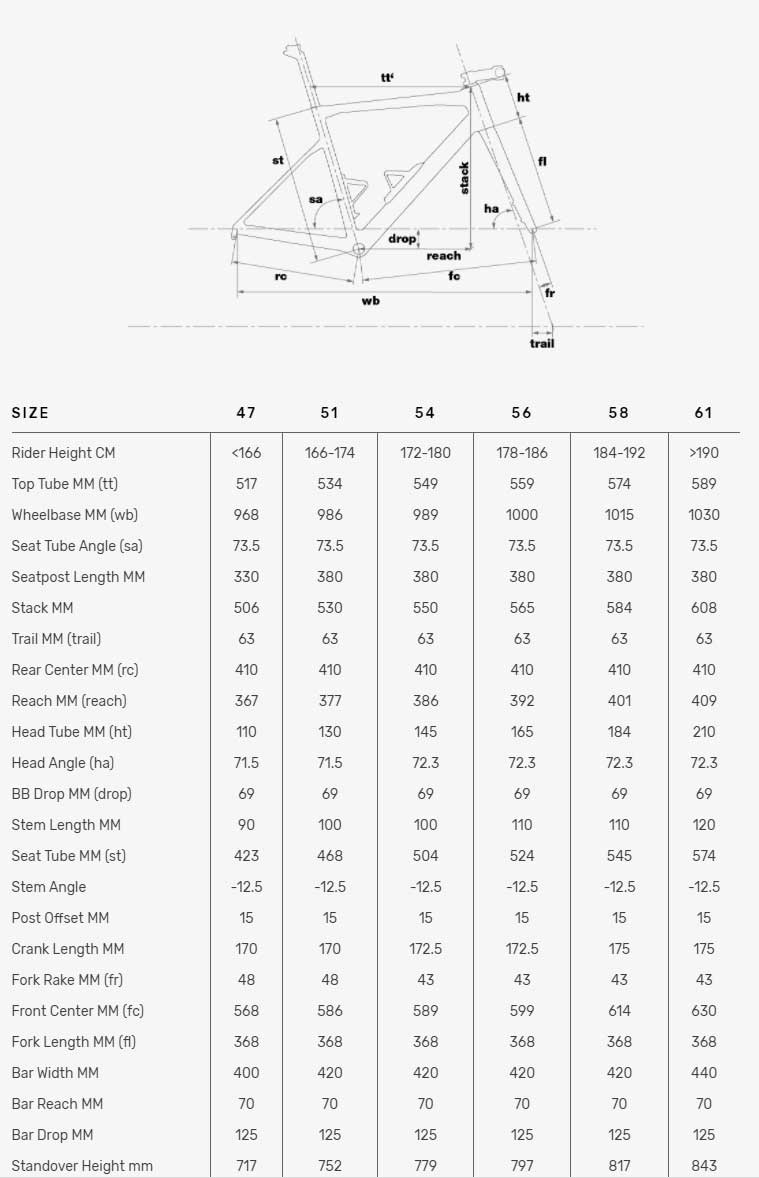 0
stars based on
0
reviews